How to clean white shoes
/
August 14th, 2020
/
There are currently 0 comments
White shoes are a popular addition to the wardrobe of men and women of all ages. They are renowned for freshening up an outfit and effortlessly blending with a whole host of ensembles. Whether it's a sporty white trainer, a white leather sandal, or even a stylish white boot, with wear,  it's likely your shoes will start to lose their sparkling, bright appearance.
We know there's nothing more satisfying than removing a clean, dazzling pair of white shoes from the box, but what if there was a way to maintain this pristine condition?
Here at Rieker,  we've got some top tricks and tips to keep your white shoes white, and with a bit of love, good as new. We'll also provide you with some of the latest fashion trends so that you can showcase your fresh, clean white shoes in style.
How to clean white shoes
Prevention
Like with most things, prevention is always better than cure. Once you've purchased your new white shoes, we recommend spraying or treating them with a spray-on stain and water repellent. This should be repeated every couple of weeks to keep your shoes protected from the weather, spills, dirt, or grime.
Secondly, this one may seem a little pedantic, but regular spot-cleaning when you're out and about can prevent stains as the dirt or spill doesn't have time to sink into the fabric. Simply pop some shoe wipes or a gentle cleaning agent in your bag and wipe off any stains, scuffs, or marks as they appear.
What to use when cleaning white shoes
When it comes to cleaning your white shoes, you're going to need a toothbrush; this will help reach grooves or small intricate places where dirt can collect. Fill your sink, or bowl, with warm soapy water and dip your toothbrush in. Gently scrub your white shoes, and you should see instant, quick results.
If you find it's not doing the trick, then you may want to add baking soda, bleach, baby powder, or even toothpaste to the mixture.

How to keep white shoes white
Cleaning white shoes with bleach

When cleaning white shoes with bleach, there are several factors you should consider:
Dilute the bleach carefully (1 part bleach to 5 parts water).
Use household bleach (sodium hydroxide).
Follow bleach safety guidelines.
Stay in a well-ventilated area and avoid contact with eyes and skin.
You'll need:
Bleach.
A container.
Water.
A toothbrush.
Cleaning instructions:
Mix a small amount of bleach with five parts water.
Dip your toothbrush in the diluted solution.
Scrub the white shoes or trainers gently.
Rinse with warm water.
Air dry outside or by a window for several hours.
Cleaning white shoes with baking soda
You'll need:
Hot water.
White vinegar.
Baking soda.
A toothbrush.
A tablespoon.
Cleaning instructions:
Combine one tbsp of hot water, one tbsp of baking soda and one tbsp of white vinegar.
Mix until it has a paste-like consistency.
Use a toothbrush to lather the paste onto your shoes.
In circular motions gently scrub.
Once covered, leave outside in the sun for 3-4 hours.
When dry, clap the shoes together to remove.
Use the toothbrush and shake it all off.
Shoes should appear brighter and whiter.
Cleaning white shoes with toothpaste
You'll need:
A non-gel white toothpaste (avoid coloured toothpaste).
A toothbrush.
Cleaning instructions:
Apply the toothpaste to your dirty shoes in circular motions.
Apply extra pressure to extra-dirty places.
Let it rest for 10 minutes.
Use a damp towel to wipe away the toothpaste.
Repeat if necessary
Can I put my shoes in the washing machine?
Shoes should not be put in the washing machine, especially not with other laundry. Putting white shoes in the washing machine can make discolouration worse and can even cause damage to your shoes. The repetitive spin can cause tears, loose threads and cause a breakdown in your shoes' leather or fabrics.
How to get stains out of white shoes
Stain remover or magic eraser
A magic eraser or stain remover contains cleaning agents that can effectively remove stains such as mud, grass and other tougher marks. They can also be used to remove scuff marks on the sole of the shoes. Each is different, so be sure to check the manufacturer's instructions before use.
Rubbing alcohol
Rubbing alcohol is the best choice for scuffs or small stains such as ink. Simply dip a cotton ball or pad into some rubbing alcohol and saturate the stained area. Repeat this until the stain has gone.
Nail polish or eye make-up remover
Nail polish remover and some eye make-up removers are great for removing scuff marks and ink stains. Use the same method as you would for rubbing alcohol.
Paint thinner
If you've managed to get paint on your white shoes, then a dab of paint thinner should help you remove the stain.
Lemon juice
Combining lemon juice with four parts water is a wonderful home remedy for removing stains. Dip a sponge in the mixture and lightly scrub the stain. Once you've removed the stain, rinse the area with clean water. 
What to wear with white shoes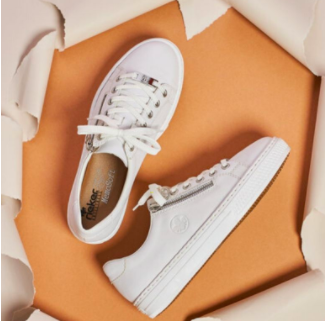 Once you've got your white shoes looking crisp and stain-free, you're going to want to show them off to their full potential. Sure white is a colour that can be matched with almost anything, but there are still ways to stand out from the crowd. Whether you're looking for a new office look, or some off-duty inspiration, here at Rieker we've got every occasion in check.
White trainers are a must-have for your wardrobe, and these days they provide you with so much versatility. They make the perfect partnership to light denim jeans while running errands, yet can be effortlessly paired with chinos or trousers for a smart-casual look at the weekend. If you're looking to infuse comfort and style at happy hour then white trainers can be matched with your favourite summer dress for some laid back, yet elegant styling.  


What to wear with white sandals

White sandals come in an array of different styles and provide a contemporary look that can surprisingly work with almost everything.
They are the chameleon of the footwear world, from large abstract prints to super-minimalist outfits, white sandals are the go-to. They brighten up even the blandest of outfits and are perfect for packing for a holiday, or weekend away when you're going to need an all-rounder that can take you from day to night in an instant.

We love this chilled out look with a flowing skirt and simple black vest that draws attention to the patterning on the skirt and the intricate structuring on the white sandals. Here at Rieker, our anti-stress shoes have been designed with breathable, flexible and shock-absorbing properties so you can enjoy both comfort and style, meaning you can explore in confidence knowing your arches are supported, and your feet are cushioned with thick soles. Who said, fashion can't be practical?

Shop the look with our top picks
Our Ladies' white lace-up trainers provide maximum comfort, flexibility and stability so that you can stay on your feet pain-free for longer. Crafted from premium materials, they provide the best level of traction and protection. We love the splashes of colour and thick sole retro styling.
Our ladies' white slingback sandals are the go-to when it comes to style and support. The detailed front accessories nightwear perfectly, while their flexible fit and breathable feature make them an excellent choice for your feet throughout the day. 




At Rieker, we're always looking to improve the style, comfort and support of our ranges; whether you're an adventure seeker or fashion-focused, you'll find a wide range of sandals, shoes and trainers to choose from.