The Best Shoes to Wear With a Maxi Dress and How to Style Them
/
March 4th, 2022
/
There are currently 0 comments
Maxi dresses, also known as floor-length dresses, are timeless favourites that never disappoint. Boasting an elegant yet comfortable cut, these floor-grazing frocks are a versatile number that caters to all kinds of occasions, seasons and fashion types.
However, as with any wardrobe staple, the shoes you wear with a maxi dress can make or break your look, so it's essential to get it right.
Here at Rieker, we've combined our footwear and fashion knowledge to create the ultimate guide on what shoes to wear with a maxi dress so that you can make the most out of this classic fashion staple. Whether you're planning to style a maxi dress in summer or winter or to a wedding or brunch, read on to pin down the right pair of pumps to get you noticed.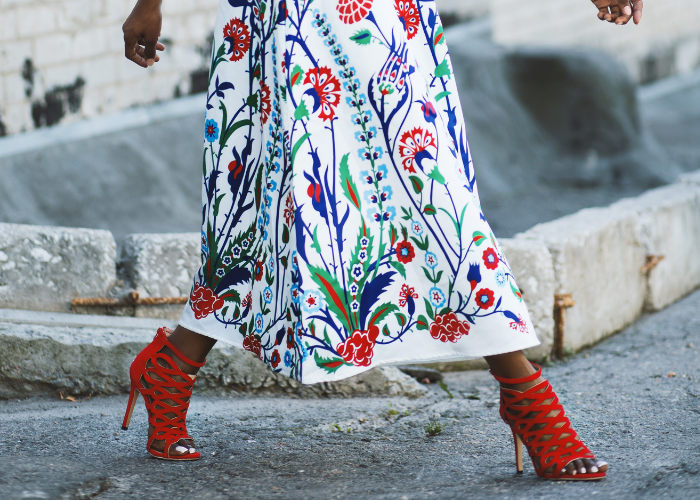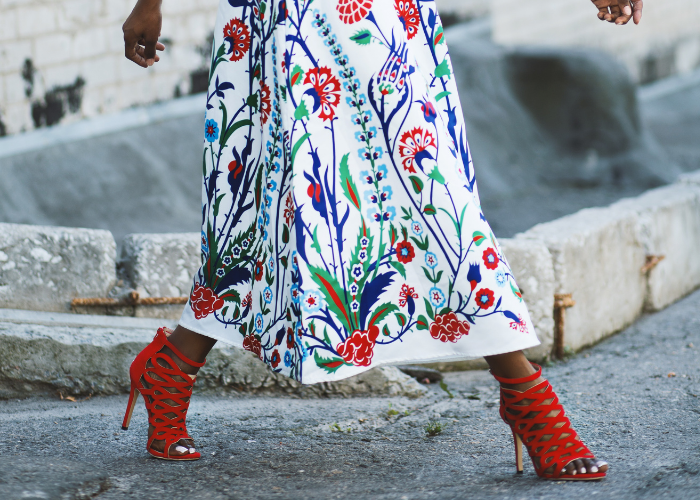 Table of Contents
Can I wear sandals with a maxi dress?
The maxi dress looks great with an abundance of shoe styles. However, sandals are a standout choice – especially during warmer seasons. A perfect choice for those wanting to enjoy a comfortable look without compromising glamour, flat sandals offer a subtle, casual style that will complement your maxi dress, keep you cool and showcase your refined, feminine taste.
If your maxi is full of bold patterns and colours, opt for a block-coloured sandal that complements the primary colour of your dress. Alternatively, a neutral coloured sandal is an excellent choice that will add a designer touch of luxury to your look without taking the attention away from your maxi.
Bold patterns, prints and colours are popular choices for maxi dresses. However, plain and subtly styled maxi dresses are also an elegant staple. If the style of your maxi is the latter, then you have a lot more freedom with your choice of maxi dress shoes. We'd recommend a brightly coloured or patterned pair of sandals to stylishly accessorise your maxi, elevate your outfit and add personality to your overall look.
Animal print sandals are a modern choice that will not only keep all eyes on you but will perfectly complement a relaxed yet stylish bohemian-styled ensemble.
RIEKER 67958-26 LADIES BROWN COMBINATION FASTENER SANDALS
When to wear wedges with a maxi dress
When considering what shoes to wear with a maxi dress, wedges come up pretty high in our top choice of footwear. A comfortable alternative to heels, wedges offer you a subtle lift whilst elegantly maintaining the comfort and function of a sandal. They are feminine, on-trend, and will flawlessly complement maxi dresses of all styles.
However, knowing when to wear wedges with a maxi dress can be a little more taxing.
The maxi dress and wedges combination is ideal for various events, particularly those that require a touch of formality. Perfect for warmer seasons, style your maxi dress with wedges to fashionably grace weddings, summer parties and other special occasions and enjoy an elevated style that exudes class and sophistication.
Stuck for time? Pairing your daytime maxi dress with wedges will effortlessly take your look from brunch to evening glamour without any raised eyebrows. They're also an excellent choice for those looking to add a little bit of height, which will stop any of the unwanted trips, falls, or accidents that can happen when wearing a longer-styled dress.
RIEKER V35H6-90 LADIES YELLOW COMBINATION FASTENER SANDALS
Here at Rieker, we've got an excellent choice of wedges for you to explore. From open-toe styled wedges to buckle fasteners and multi-coloured designs, we can guarantee that you will find a style to suit your maxi in this collection.
Can I wear heels with a maxi dress?
Heels and maxi dresses go hand in hand, so it's pretty hard to go wrong with this stylish combination.
Ideal for formal events, evening do's and more, heels add a feminine designer touch to your maxi that will bring out the best of any evening look. What's more, the added height will elongate your legs and allow your maxi to flow freely, creating a glamorous effect that showcases the design of your dress.
Of course, with heels can also come foot pain – So if you're heading to an event that you know will last a few hours, pack a backup pair of pumps for good measure. Or, if you're looking for footwear styles to combat foot pain – without compromising style – check out our blog on comfy shoes for sore feet.
Trainers and maxi dresses: A winning combination?
If you've found yourself scratching your head over whether or not you can wear trainers with a maxi dress, then you're not alone. However, love it or hate it, this trend is here to stay.
Wearing trainers with a maxi dress is a modern and popular way to style your maxi. A fashionable clash of formal and casual, this contemporary ensemble offers a laidback style ideal for day-to-day wear, come rain or shine.
But, what trainers can you wear with a maxi dress? This can heavily depend on the style of your dress. Block coloured maxi dresses or maxi dresses with no patterns allow for a bolder choice of trainer: Play with colour, material, pattern and trainer style to create a fashionable look that represents your unique style and personality.
If you're wearing a maxi with busy patterns or standout colours, we'd recommend opting for a white trainer for a clean, on-trend look.
RIEKER L59L1-80 LADIES WHITE LACE UP SHOES
How to wear boots with a maxi dress
Whilst standard skirts and midi-dresses might take a back seat in cool Autumn months, the maxi dress maximises its potential.
Whether opting for a knee-length or ankle cut style, boots are an excellent way to style your maxi dress in colder seasons. Pair your maxi dress with tights and black or brown boots for a chic, fashionable look that will enhance your ensemble.
In winter, black boots are an excellent choice for most maxi styles. A super-versatile option, they will complement your attire without stealing the show. Tie together your look with a black belt and accessories to create a sleek, put-together look ideal for day to day wear and evening events alike.
Can I wear loafers with a maxi dress?
A fashionable favourite, loafers can be worn with just about anything, so it comes as no surprise that they are fashionably donned with maxi dresses of all styles and designs.
What's more, loafers are a great alternative to flat shoes and pumps, bringing personality and individuality to any look. Though they may not be the first footwear style that springs to mind when considering what shoes to wear with a maxi dress, they are a sophisticated choice that adds a timeless touch of class to any ensemble.
RIEKER 54862 LADIES SLIP ON SHOES
Style your maxi dress with black loafers to create a sophisticated look ideal for casual and formal events.
What shoes to wear with a maxi dress to work?
Maxi dresses are comfortable, elegant and fashionable, making them a popular selection for various occasions, including formal events and office gatherings. But, what shoes can you wear with a maxi dress to work?
As a general rule of thumb, if your maxi dress shoes are smart and follow the dress code, you can't stray too far from the style path.
Loafers offer a sophisticated look that will elevate your look, making them a smart selection for office wear. Similarly, ankle-cut boots paired with tights and a maxi provides a touch of work formality without compromising on style.
With the right maxi dress shoes, you can effortlessly transform your favourite maxi dress from a weekend brunch outfit to a work-ready look that delivers the right impression.
Step out in style in a maxi
When styled with the right maxi dress shoes, these fashionable frocks prove versatile options that you can turn to season to season. Whether you style your maxi dress with trainers for a contemporary yet casual look or dress it up with wedges for a romantic weekend date, it makes a refined, fashionable statement that has no trouble taking centre stage.
Whilst the abundance of footwear options may have previously put you off reaching for this classic frock, we hope that after reading our guide on what shoes to wear with a maxi dress, you'll be ready to step out in your maxi confidently.
For more maxi dress shoes to style with your frock this summer, shop our complete selection of ladies footwear by clicking the button below!
Related Articles
Autumn Winter Ladies' Shoe Trends
Stylishly Sensible: Supportive Shoes for Older Women