Stylishly Sensible: Supportive Shoes for Older Women
/
December 21st, 2021
/
There are currently 0 comments
Shoes for older women don't have to be an eyesore; however, they do need to provide the correct level of comfort, support and stability to your feet. As we get older, our footwear choices can become problematic, and wearing the wrong shoes for your feet can be a catalyst for a wide range of troublesome foot problems and ailments.
Here at Rieker, we understand the importance of having the right fit for your feet, and we don't believe in having to choose between what looks good and what feels good. We've put together this guide to help you navigate today's market of 'old people shoes' and ensure that you make both a stylish and informed decision with your next footwear choice. 
First, let's take a look at why investing in your feet is so important.
The most common problems associated with older feet
As we age, our feet naturally become susceptible to unpleasant swelling, aches and discomfort. Whilst preventing foot pain is always better than finding a cure, it's essential to be able to recognise common foot ailments and the problems associated with older feet, as they may be a sign that it's time to upgrade your footwear.
Corns and calluses
Corns and calluses are painful patches of hard skin caused by frequent pressure and repetitive rubbing. Wearing the incorrect shoe size is a significant contributor to this ailment – a vital factor to consider in your senior years when your feet are naturally more prone to swelling.
Reduced foot padding
The soles of our feet naturally have a fatty layer of cushioning which aids the shock absorption in our heels and arches. As we age, this protective layer of padding becomes weaker, increasing the risk of painful joints and swollen ankles.
Plantar Fasciitis
Plantar Fasciitis is pain felt around the base, heel and arch of your foot and is most often caused by treading on hard surfaces without support or wearing shoes with little to no cushioning.
Circulatory issues
Older adults are more prone to developing conditions such as diabetes, which directly contributes to poor circulation. Reduced blood flow to the feet can incite painful swelling and pain – symptoms that an incorrect shoe size or design can worsen.
The best shoes for the elderly
Whilst the weather might try to stop you from getting out and about, your footwear definitely shouldn't.
Here at Rieker, each shoe is designed with our signature anti-stress, anti-shock technology, and you will find maximum support and unforgettable comfort with every fit. There is a multitude of footwear choices for older people on today's market. However, it's essential to find the right pair for you. Browse our ladies and men's footwear choices and look out for Rieker's top three features:
A functional fit
A wider fit means more room for your toes and will accommodate the fluctuating swelling of your feet throughout the day. A spacious shoe is particularly important if you suffer from bunions, hammertoes or arthritis, as a shoe that provides maximum stability and comfort can help ease symptoms.
Stability
For the best performance, your shoes need to provide ample support and stability in all the right places. Your new fit should aid your balance, offer superior arch support and provide a supportive sole that allows for flexibility.
Cushioning
Shoe cushioning is designed to absorb the shock of impact, which becomes more critical as we age when the padding of our feet is not as robust as it used to be. Poor shoe cushioning can result in our joints taking the brunt of our weight, which leads to pain, swelling and discomfort.
What shoes are best for older people?
Shoes that provide a secure fit are essential for the older generation, and at Rieker, we host a wide range of options to cater for this. Our collection of ladies trainers offers a variety of lace-up and adjustable toggle options in a generous palette of colours, meaning that you do not have to compromise on style or comfort. What's more, all of our designs are crafted with high-quality materials and breathable fabrics to provide you with a flexible fit that moulds to your lifestyle.
RIEKER N42T0-81 LADIES WHITE LACE UP SHOES
The best shoes to prevent falls
If you're worried about slips, trips and falls, a non-slip sole is a must – and flip flops and backless slippers are to be avoided at all costs.
Older adults have less flexibility in their muscles and joints, which can cause them to 'shuffle' their feet as they walk. Our collection provides a great offering of ladies shoes to cater for this risk, and our lightweight materials offer ultimate flexibility and forgiveness on your feet. We also offer easy to wear velcro and hook and loop fastening styles, which eradicates the risk of tripping over untied laces.
RIEKER 44875-00 LADIES BLACK HOOK & LOOP SHOES
The best shoes for older people offer a contoured footbed, arch support and premium materials that will not cause friction or pressure. With this in mind, our range of shoes with strap fasteners are a great choice. Combining secure grip soles, ample cushioning and high-quality materials, you will find a shoe that offers maximum comfort with a fashionable fit. As with all our other shoe styles, this range is available in a luxurious array of styles and colours. Who said 'old people shoes' had to be boring?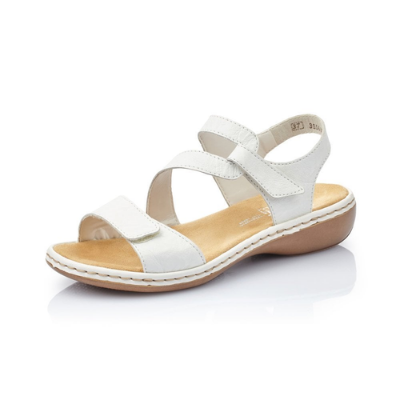 RIEKER 659C7-80 LADIES WHITE FASTENER SANDALS
Shop our supportive shoes for older women
At Rieker, we are passionate about providing fashionable, on-trend designs that will also cater to your needs, which is why all of our ladies footwear choices are carefully manufactured with our unique anti-stress technology. We use high-quality materials to ensure that each design is as flexible and as fitting as the last. 
Whether your day consists of a walk through the park with your dog or a stroll around the shops with a loved one, our vast collection has a choice to accommodate your feet on whichever activity you choose.
If you want to find out more about how our shoes can reduce foot pain, check out our full range by clicking on the button below.
Related Articles
Autumn Winter Ladies Shoe Trends