SS19 Footwear Trends at Rieker
/
March 28th, 2019
/
There are currently 0 comments
As of last week, it is officially spring! So, what better time to take a look over the top SS19 footwear trends?
Here at Rieker, we're always on the lookout for the next big thing in footwear. However (and this is where we differ from many other brands), we are firm believers that fashionable footwear should never mean a sacrifice in comfort. All too often, people find themselves buying new shoes that end up hurting after a couple of hours wear – and, we think you'll agree, limping and sore feet are not a good look!
With this in mind, we've curated our very own SS19 footwear collection that effortlessly fuses fashion and function. We've taken a good look at all the latest seasonal trends, using these to create spring and summer appropriate footwear that truly does feel as great to wear as it looks.
So, if you're looking to update your footwear collection for spring and summer, look no further. Here are just a handful of our favourite men's and women's styles, guaranteed to put a spring in your step and inject a whole new lease of life into your seasonal wardrobe.
Starting with the women…
Women's spring/summer footwear trends
A dash of mustard
Mustard has been huge in the world of fashion for quite some time, and this doesn't look to be changing for the new season. However, the more muted mustard shades of AW are moving into a brighter, bolder yellow shade – perfect for the sunnier months!
To add a sunny pop of colour into your summertime look, we'd recommend the Rieker Ladies Yellow Combination Sandals. With a brown leather heel and fastening strap alongside a wider yellow bottom strap, these pretty sandals are perfect for that subtle splash of colour without overpowering your whole outfit.
Subtle nude sandals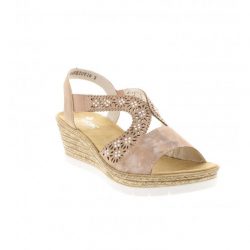 Or, on the opposite end of the spectrum, how about a pair of nude sandals? Soft, muted shades of nude, cream and rose are set to be huge across SS19, making them a great choice for your footwear.
The gorgeous Rieker Ladies Rose Wedge Sandals are our number one choice for adding a subtle, feminine touch to any ensemble. In a classic, comfortable slingback style and with intricate stencil cut detailing, these pretty wedge sandals will look fantastic teamed with everything from floaty summer dresses to stylish tailored trousers.
Floral flats
Of course, there are some days where a flat shoe is all you need! Flat shoes are timeless, comfortable, and available in a variety of stunning styles. If you're on the lookout for a fashion-forward style for the new season, why not consider florals?
A floral shoe is a perfect choice for the warmer spring and summer months, bringing a summer-ready feel to any look. The Rieker Ladies Multi Colour Shoes, with their cut out floral detailing and multi-coloured floral print, will look fantastic teamed with jeans for an effortlessly chic finish.
Strappy white wedges
And finally, if you're looking to keep ultra on-trend this season, straps are where it's at! From buckled designs to intricate fastenings, super strappy sandals have been featured throughout a number of SS19 collections.
To keep your look fashion-forward, treat your feet to the Rieker Ladies White Wedge Sandals. These stylish women's sandals feature a wedge heel and a white strappy upper, giving a sleek and sophisticated finish. Team yours with cropped trousers or your favourite jeans to instantly elevate your look.
And onto the men…
Men's spring/summer footwear trends
Smart slip-on shoes
Whether you've got a springtime wedding to attend or you're looking to add a dapper edge to your daily look, a pair of brogues is an absolute must in your footwear collection. Brogues are in fashion constantly, however, this season this men's footwear staple has taken on a slightly more casual look in the form of brogue slip-on shoes.
The Rieker Men's Brown Combination Slip On Shoes are topping our list for a number of spring/summer occasions. Team with suit trousers and a sleek shirt to step it up at a wedding or Christening, or pair with trusty jeans or chinos for a smart twist on a casual daily look.
Shades of blue
If you're looking for something a little more casual yet still on the fashionable side of the spectrum, tonal shades are set to be huge this season. Tonal shades of blue in particular are a great way in injecting summer-ready colours into your look in a more subtle way.
The Rieker Men's Blue Combination Lace Up Shoes are the perfect example of this. The lighter and darker blue shades blend together perfectly, with a touch of brown detailing breaking up the design and bringing a classic touch. These casual men's trainers will pair perfectly with beige chinos, or with simple blue jeans for a day-to-day style guaranteed to make an impression.
---
Of course, that's just a small selection of the stylish men's shoes and women's shoes we have on offer here at Rieker. To keep your style up to date no matter the season be sure to keep an eye on our 'new in' page, where you can explore all the women's sandals, women's wedges, men's trainers and men's slip-on shoes you need to take any look to the next level.
To take a look at some of the above styles in action, check out our SS19 campaign video below!