How to clean your dirty boots
/
November 6th, 2019
/
There are currently 0 comments
Boots are a staple in every wardrobe, whether you're a mountain trekker, an urban explorer or a city seeker, boots give you the protection you need. They have durable rubber soles and are sturdy on your ankles, so you can take on the toughest of elements. A good boot keeps water off your feet and provides a good grip for exploring all kinds of terrain.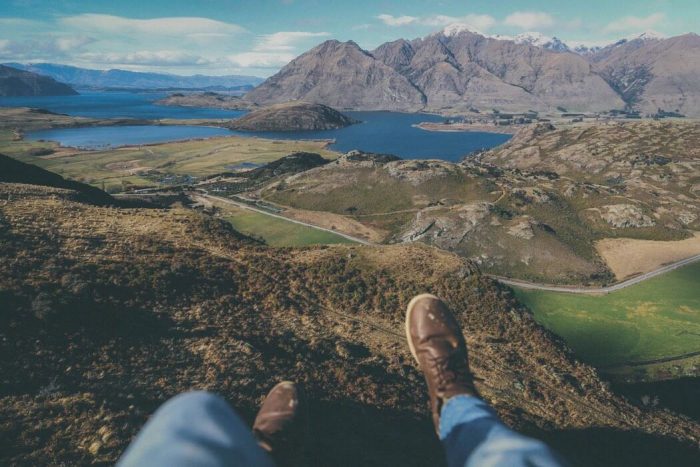 But with lots of exploring also comes lots of muddy puddles and dirt. Here at Rieker, we want you to enjoy your adventures without worrying about damaging your boots, which is why we've put together a guide on how to clean and care for your boots.
How to clean leather boots
Wipe off any wet dirt. We suggest removing the bulk of any mud first, as stuck-on mud is tougher to remove once dried.
Start the cleaning process with dry shoes. Putting leather cleaner on wet shoes will not fully protect them, and may even do more harm than good.
Remove shoelaces. Once you have dry shoes, take out the shoelaces where possible. This just makes it easier to clean the boots and ensures that you don't get leather cleaner on the laces.
Brush off any dirt. Use a boot brush, and don't forget to brush in the smaller grooves. Boots and shoes that have more intricate details embedded in the leather, like our ladies brown combination ankle boots, can take a little longer to remove dirt, but patience is key.
Use a damp, clean cloth to remove any excess dirt. If you want to use soap, make sure it is a very mild one, but clear warm water should do the trick. Again, allow your shoes to dry fully before applying cleaner or polish.
Apply leather cleaner with a soft cloth or brush. Work in circular motions across the shoe or boot to make sure you cover every inch, then leave it to dry.
Leather protector and conditioner. Protectors often come in a spray bottle which makes it a lot easier to see where you're protecting. They also provide an extra barrier for when you step back out in your leather shoes.
Keep polish handy for scuffs and marks. Shoe polish is always handy to have in the house, as it helps maintain the appearance of your shoes.
Please note: These 8 steps only apply to regular leather. Don't try this method with faux leather or patent-style leather, as these require specialist polish types.
How to clean and re-waterproof dirty hiking boots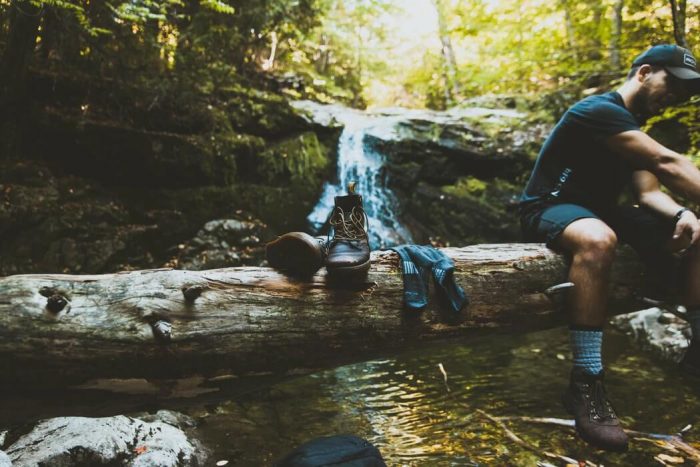 Hiking boots are bound to get dirty. In fact, if you come back with a squeaky clean boot, the chances are you haven't ventured far enough. Nevertheless, to prolong the life of your hiking boot, it is important to clean them when they get dirty. Dried on mud and dirt can dry out leather or fibres of your boots, in turn making them wear out faster.

We recommend starting your hiking boot cleaning outside to avoid a mess inside the house. Here are the steps you'll need to take:
Brush/ knock off as much dirt as possible. A stiff-bristled brush is great for getting into the cracks.
Remove the shoelaces (wash them separately if necessary), this means you can clean the shoe more effectively.
Stuff your boots with old clothes or a hand towel, this will soak up any extra water during washing and helps them dry out quickly afterwards.
Rinse your boots under the tap or with a hose pipe if your shoes are particularly dirty, to avoid clogging your indoor sink with dirt.
Scrub your boots using a brush and cleaning gel (use the right type for your specific boot type and remember to check for suede/leather alternatives). This will remove embedded dirt.
Rinse the cleaning gel off with clean running water.
Spray or rub waterproof protection. This can be applied while still wet.
Leave your shoes to dry in an aired space – do not leave next to a heated radiator as this can cause cracks in your boots.
Top tips for dirty hiking boots:
After every ramble or walk we recommend giving your footwear a clean, this prevents a build-up of old dirt that can become lodged in your boot.


Make sure you rinse your walking boots and avoid submerging them in water as this can alter the overall performance of your boots.


Never force dry your shoes with heat, especially a hairdryer as this can damage your hiking boots.


If your hiking boots are leather, they could benefit from conditioner to prevent splitting. Dubbin is a wax product designed to maximise the water repellent properties of your boots. Dubbin protects against dirt and stains and keeps your leather soft.


It's a good idea to clean the inside of your boots occasionally. Sweaty deposits can damage leather, reduce breathability and can even block the waterproof membrane. When washing the inside of your boot it is important to use lukewarm water as to not cause more damage.
How to clean suede boots
When it comes to cleaning boots, suede boots require the most precision. If it goes wrong, you can risk ruining your boots. However, with the right care, suede boots can have a long lifespan and remain in perfect condition year after year.
It's vital to remember to spray your suede boots with a suede protector prior to wear, this will prevent any damage before it happens. We know how tempting it is to wear your favourite pair of boots no matter what the weather, so if you're suede boots have been exposed to a bit of weathering, here are a few top tips on how to clean up your suede boots and have them looking as good as new.
Use a suede cleaning brush to remove access dirt – it is essential to use an appropriate brush as other shoe brushes can be too harsh on the fibres. Make sure you brush in the direction of the fibres too, brushing back and forth over the surface is a big no.
Use a clean, dry towel to rub the surface of your suede boots – don't use water here! Simply wipe to remove layers of dirt and dust.
Use a suede eraser – (a regular eraser will do the job if you rub very lightly) to rub away watermarks, oil or grease.
Got a tough stain? Pour a little vinegar on a clean cloth and wipe the affected area. This trick even works on red wine spills!
How to keep your boots from smelling
It's not something we may want to admit, but after wearing the same boots over and over again, they inevitably begin to smell a little. We tend to wear boots in the colder and damper conditions, which can naturally give boots a musty smell. So here are a few ways you can keep those smells at bay:
An odour remover spray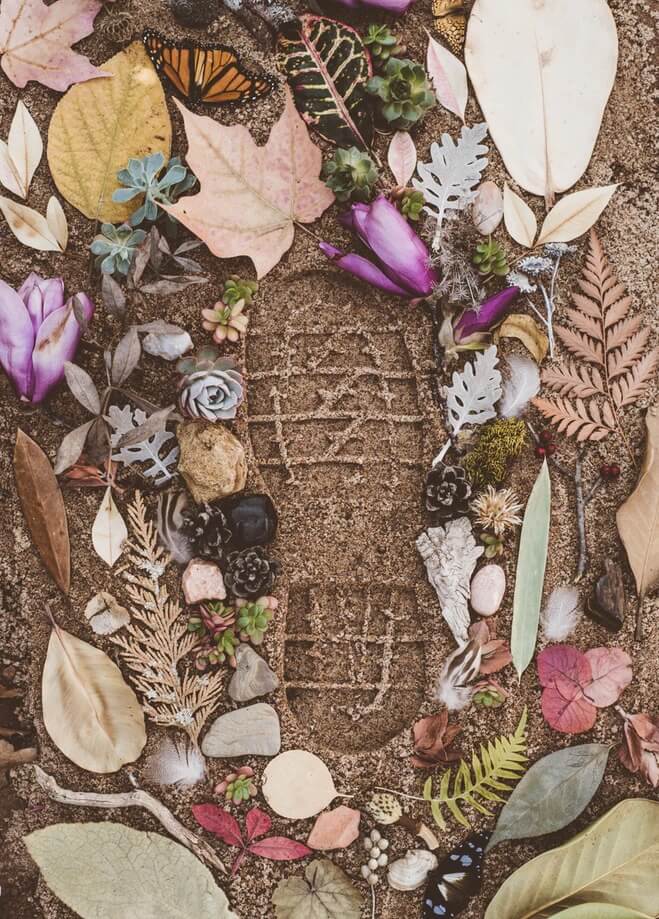 An odour remover spray is a quick and easy way to remove natural sweat smells. Spraying straight after wear is the most efficient time to do this.
Alternate your shoes
We all have a favourite pair of boots we could happily wear everyday, but wearing the same pair of shoes for two days in a row does not give your shoes enough time to completely dry out from the previous day's wear. So simply rotate your collection and give your shoes time to breathe.
Apply foot powder
Sometimes, prevention is key. Applying a foot powder to the soles of your feet can reduce foot sweat, therefore reducing the smell.
Place your shoes in the freezer
This may seem a strange one, but we guarantee it works! Place your shoes into a large resealable bag and place overnight in the freezer. The minus temperatures remove the bacteria, leaving you with a scent-free pair the next day.
Charcoal insoles
Charcoal insoles help your shoes breathe while eliminating odors. Charcoal deodorant foot cream also helps eliminate odors, while leaving your feet super soft and smooth.
Remember: Check your boots for wear
Dirty boots, along with other elements, can result in shoe wear, so it is essential to occasionally check your boots for signs of this. If you notice your boots are losing grip this could be detrimental to your safety, especially when on a hike. You could have the sole replaced, but if the boot uppers are also damaged it is very likely they have lost their waterproof property. This means it is time to replace them. Here at Rieker, we have a vast range of ladies boots and men's boots in an array of styles, from walking boots to fashion boots. Whatever the weather, we've got you covered.