Everything You Need to Know to Do the National Three Peaks Challenge
/
July 17th, 2017
/
There are currently 0 comments
If you've heard a lot about the Three Peaks Challenge but have never given it a go yourself, maybe now is the time.
The Three Peaks Challenge is a massively popular mountain-climbing expedition that involves you climbing the tallest peaks in Wales, England and Scotland (Snowdon, Scafell Pike and Ben Nevis). The challenge is to reach the top of each mount and get back down to race to the next one within either 24 or 36 hours — sleeping in cars and dealing with whatever weather comes your way!
Feel up for the challenge? Read on to find out what you need to prepare to make it a success.
Decide whether to do 24 or 36 hour challenge
The first decision you need to make in your preparation for the Three Peaks Challenge is whether you'll conquer it in 24 or 36 hours. If you go for the quicker trek, this is a lot more challenging. A general marker for how long you'll spend climbing and ascending each mountain in the 24-hour trek is about four hours. But remember, this is four hours you'll have to repeat another two times with only your travelling time to recover! If you think you'd benefit from a slower pace, the 36-hour Three Peaks Challenge might be the better option for you.
Are you going to arrange it yourself or take part in an organised group?
Now, you should choose whether you're organising your Three Peaks Challenge yourself, or booking one of the organised treks via the website.
If you opt for booking an organised event, you receive:
Help from mountain guides and support staff.

Water throughout each trek.

Minibus between the mountains (ten people per bus).

Certificate of achievement at the end.
But don't feel you have to book to do the Three Peaks Challenge. Many people complete the journey perfectly fine without it, as long as they remember to sort out accommodation, transportation, and check-off everything in our list below.
If you're arranging the event yourself, you should note that it'll comfortably take you around five hours to complete Ben Nevis, four hours for Scafell Pike, and four hours for Snowdon. Then, just add eleven hours' worth of driving to this and you should get a good approximation of how long the Three Peaks Challenge will take.
When to do it
It's recommended that you attempt the Three Peaks Challenge between June and October for the best weather and visibility to really enjoy it. Weekends are almost always busier than weekdays, but the atmosphere and camaraderie is great when there's a decent bunch of people, so it's up to you to decide whether you want a livelier or more relaxing walk!
If you decide to take on the 24-hour Three Peaks Challenge, you have to decide what time of day you'll start your walk. Some popular time-of-the-day choices are:
Daylight walk

: where you climb Ben Nevis at 17:00 and drive overnight to ascend the following two peaks during the following daytime.
Traffic-avoidance walk

: where you complete Ben Nevis by 5pm, climb and descend Scafell Pike between 23:00 and 03:00, and arrive in time to start Snowdon at 08:00.
Snowdon at night walk

: where Ben Nevis is done by 11:00, Scafell Pike by 21:00, leaving Snowdon as a nighttime/daybreak trek taking place between the hours of 02:00 and 06:00.
Decide whether to do it for charity
The National Three Peaks Challenge is a very popular fundraising event, so you can always choose a good cause to help out as part of your adventure.
Choose a designated driver
Since you'll be trekking up three mountains, you need travelling time to sleep and recover. So, pick one or two friends to take turns driving you between peaks if you aren't booking an organised trip.
Training
Once you've picked your dates and times, now it's time to get to work. Regardless of whether you choose the 24 or 36 hour trek, the Three Peaks Challenge is a mean feat of physical endurance for anyone. So, you need to prepare to reduce the risk of injury and make sure you achieve all peaks safely.
We suggest getting a good pair of walking boots or trainers and going on plenty of long walks every week. Even better, change up your routes regularly to practice on different grounds and try lots of uphill walking to get used to trekking up inclines.
Another good idea might be to throw in the odd cycling or jogging session once or twice a week, too. This doesn't have to be too long (you'll not be taking your bike or running shoes to the peaks, of course) but this type of cardio exercise will help raise your heart rate and strengthen your leg muscles for greater endurance.
To improve your body strength for when you need to push yourself up those steep inclines, try doing some leg weights, squats and lunges on alternate days between your cardio workouts.
Clothing
Once it gets nearer to your Three Peaks Challenge, you need to consider what you'll wear. No matter the climate, climbing and descending three times in a row will raise your body temperature considerably. So, make sure you wear lightweight materials and proper sports clothing featuring special sweat-wicking and cooling technology to keep you cool, dry and comfy.
As you know, the weather is unpredictable, so waterproofs and thick socks are musts, too! The uphill incline and length of time you'll walk for will put pressure on your feet, calves and back; so supportive walking shoes or boots are essential. Footwear with shock-absorption abilities will help take the impact of hard surfaces as you walk, while a secure but roomy fit and quality soles improve your posture to stave off back pain. So, it's definitely worth investing a quality pair of shoes to help you in your challenge.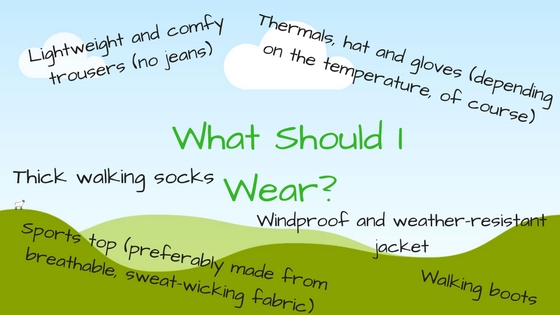 It's generally a good idea to pack a change of clothes and shoes in the car or to leave on your transportation, just in case there's a downpour.
Food and drink
During your drive between the peaks, you'll be able to stop off to grab some snacks and refreshments before the next climb. However, if you want to pre-pack to save time, make sure the food you take in your bag on each trek is full of protein and carbohydrates with plenty of wholemeal/whole grain products, such as: nuts, eggs, oat cakes, bananas, dried fruit, brown bread turkey/ham sandwiches, and cereal bars. Taking lots of bottled water or sports drinks is crucial and you should aim to eat a small/medium meal after each climb.
Other hike essentials to bring on the climb
You'll be away from your vehicle and in the great outdoors for at least four hours at a time, so you want to make sure you take the essentials and perhaps a few extras with you to make the most of the journey!
All hikers should have a map, compass, snacks, water, and mobile phone on them to keep them safe and energised. You can take a camera with you if you like, or save space and use your phone. Walking poles are handy options for many hikers and we recommend packing plasters, sunglasses and suncream to protect you from blisters and the sun as you walk. Within your group, one of you might want to take a torch, survival blanket, emergency shelter, and first aid kit just in case there are any problems, too.
Tick off all these points and you're well set for a successful Three Peak Challenge! Before you go, browse our men's trainers and hiking sandals, or our women's trainers and walking sandals to help you with your training.