Comfy Shoes For Sore Feet
/
December 2nd, 2021
/
There are currently 0 comments
If you're suffering from painful feet from injury or overuse, then there's nothing worse than the discomfort of ill-fitting or uncomfortable shoes. Your feet are already going through enough without having to add to the problem. Here at Rieker, we are not just a footwear brand but an advocate for antistress footwear that provides flexibility and fashion all in one. We care about creating footwear that fits your lifestyle while keeping you comfortable and confident. 
To help you, we've put together some of our favourite comfy shoes for sore feet and provided advice for preventing the pain in the first place.

This may beg the question…
Why do my feet hurt?
Well, injury, overuse, or conditions causing inflammation that involve any of the bones, ligaments or tendons in your foot can cause foot pain.

Arthritis is also another common cause of foot pain, as well as injury to your nerves which may result in intense burning pain, numbness or a tingling feeling.
Comfy shoes for sore feet
At Rieker, our ladies' shoes are designed and crafted with our signature antistress and antishock technology in order to provide optimum shock absorption on various surfaces. The maximum reflexibility and a flexible design that allows space for feet to expand during the day, which is all great news for sore feet. 
Comfy shoes for hiking
Whether you're searching for walking shoes for short weekend strolls and dog walks, or the best hiking shoes for more challenging adventures, we've got a broad selection to suit every terrain and season.

Our boots are the best choice for more demanding long-distance walks, even on relatively uneven terrain, and are unlikely to let you down over hundreds of miles. Their robust and well-crafted fabric upper benefits from a waterproof and breathable Gore-Tex liner, while their well-fitting structure offers good support across the whole foot.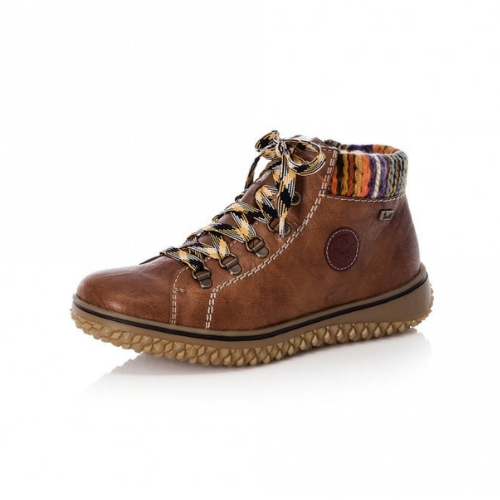 RIEKER L4211-22 LADIES BROWN ZIP UP ANKLE BOOTS
If you're looking for a lighter weather alternative then our walking sandals make a great choice as their thermoplastic elastomer sole offers comfort, stability and support. This means you can enjoy the outside for hours on end without worrying about pain in your feet.

Some of you may prefer to opt for a trainer, as they are lighter, cooler, and quicker to dry. Wonderful for all weathers, ethylene vinyl acetate soles have special shock-absorbing properties. This is a light and qualitative elastic material that provides premium cushioning which means less impact on your joints and feet.
Comfy shoes for work
Whether you work in an office or spend hours on your feet we've got a range of comfy shoes for work. Providing both style and comfort our ladies' shoes provide the same level of support as our trainers do whilst fashionably matching almost any outfit and occasion.

Perfect for the office, our Mary Jane style ladies' shoes are famous for their elegant closed-toe design finish with single or multiple straps across the top of your foot. This keeps your foot secure without shifting backwards and forwards putting pressure on your feet. Crafted from the softest leather upper material you won't suffer from any rubbing or sore patches.

Our ladies' loafers are fabulous for those on their feet all day as their raised sole molds to the contours of your feet. Since the arch support is more contorted to your foot, you help eliminate the primary pressure points which are usually on the heel and ball of the foot.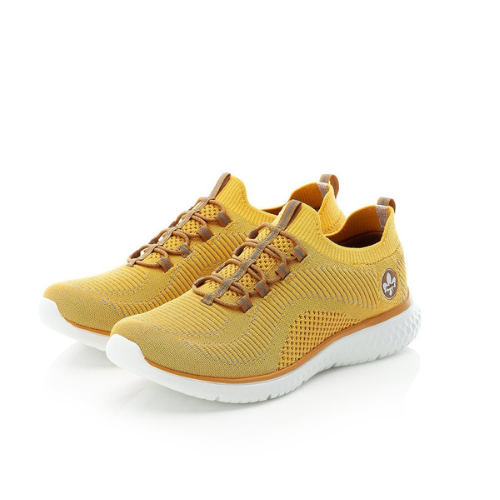 RIEKER N9474-69 LADIES YELLOW LACE UP SHOES
Comfy shoes for the gym
If you're looking for comfy shoes for the gym then we've got a flexible selection of trainers that have been crafted using our own technology to ensure that every ladies' trainer is both durable and supportive to endure any activity. Whether it's running or aerobics, our premium trainers provide the best level of traction, stability and protection. Combining rubber soles, secure lace-up designs with flexible upper materials and cushioned insoles, you get a shoe that's exceptionally comfortable, strong and fashionable.
How can I prevent foot pain when walking?
If there's anything to take away from this it's that prevention is always better than cure. There are several ways you can stop yourself reaching the point of despair just with a few simple tips and tricks. You can learn everything there is to know about avoiding foot pain in our foot therapy preventing foot pain when walking post. Whether you're heading out to hike the hills or simply exploring the park on a weekend, we'll ensure you know how to remain as comfortable as possible.
How can I prevent foot pain after a long walk?
We're all fond of a long walk or hike to improve our cardiovascular health and refresh our mind. While the right pair of walking boots or shoes will ensure your feet stay comfortable during the activity,  aftercare is important to keep your feet both healthy and free from pain. Check out our foot rehab after walk foot pain recovery tips for vital advice to reduce the chances of pain increasing after a long walk or hike. 
How can I prevent foot injury?
Foot injury can occur from a direct penetrating pain from a fall, twist or abnormal bending of a limb. From stretching to daily exercise our preventing foot injury post explores necessary steps to prevent foot injury, the best stretches post-injury and advice on what you should be looking for when it comes to footwear.
How can good shoes prevent foot pain?
Wearing the wrong type or fit of shoe can exacerbate existing problems such as pain or arthritis in your feet; that's why it is essential to choose shoes that offer both comfort and style in equal measure. If you want to learn more about how good shoes prevent foot pain then be sure to read through our extensive guide here.

If you want to discover a range of comfy footwear then explore our full collection of men's shoes and ladies' shoes here at Rieker. We believe we strike the perfect balance between fashion and practicality, that's why every shoe is designed and built with the Rieker features and benefits. We've even created our own technology, Rieker Antistress, to ensure you benefit from the best level of support, flexibility and durability.