2019: Best Travel Shoes
/
July 19th, 2019
/
There are currently 0 comments
The holiday season is officially upon us and because humans are a varied bunch, tourists are sure to be visiting a wide variety of destinations. One of the main concerns for travellers is comfort, particularly for their feet if walking is a big part of their holiday.
The first thing to consider when purchasing shoes is the type of holiday you're actually going on; you definitely don't want to wear sandals on a skiing trip or woolly boots to the beach. Not only that; if you're travelling quite a distance you may also want to factor in comfort for your feet on the plane or ferry.
Here at Rieker, we can give you all the advice you need to find the perfect shoes for your holiday this year. Due to the fact that it is summer and many holiday-goers will be jetting off to somewhere warm to relax or go exploring, we're going to focus specifically on shoes that provide the most comfort, breathability and durability for walking and travel.
What are the best ladies travel shoes?
Best All-round Travel Shoe: Mules
Ladies mules have had a sudden resurgence recently and it's easy to see why. An incredibly practical shoe and a great all-rounder, mule shoes are available in a wide range of styles and colours. With a variety of designs and embellishments to choose from, mules make for fantastic holiday shoes, as they are easy to slip on and off and allow your feet to breathe. If you love wearing sandals but aren't a fan of showing off your feet too much, mules are an ideal alternative and are the best option for destinations with warm to moderate climates.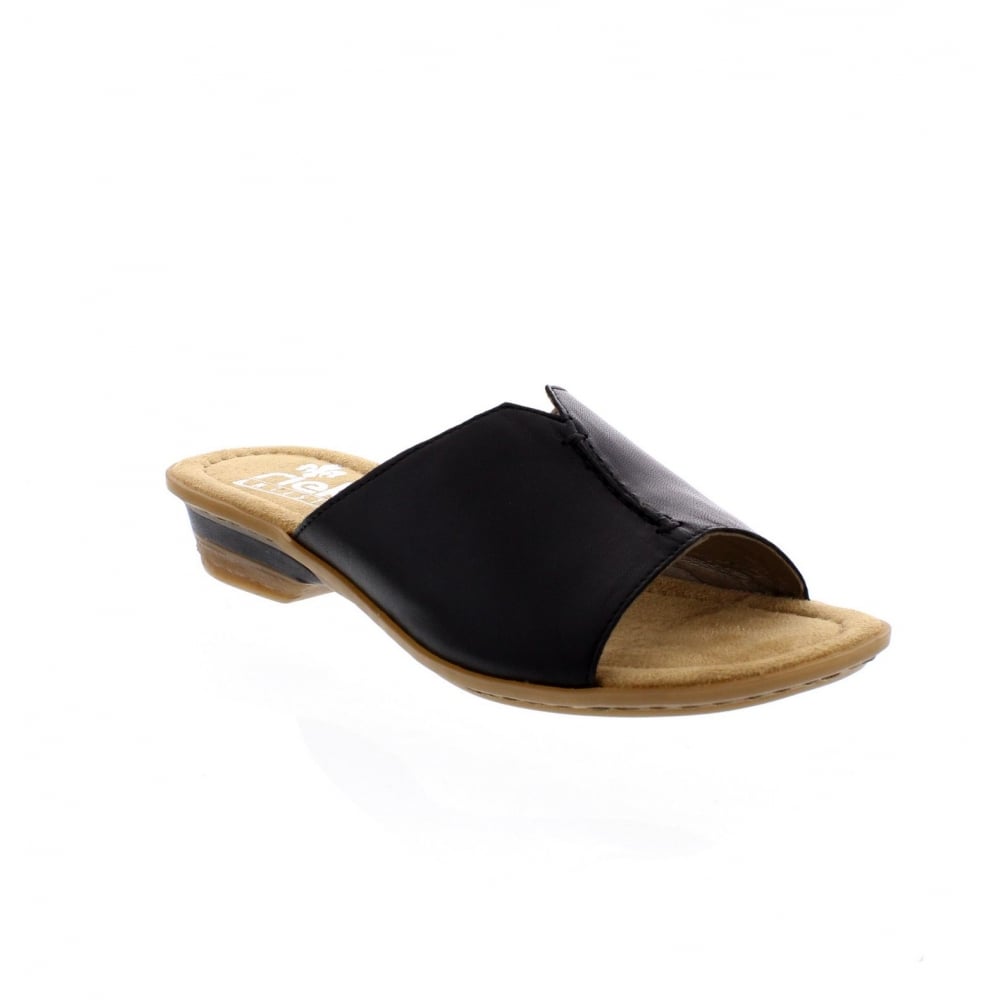 A smart pair of black mules look wonderful with most outfits, particularly evening wear or jeans and a top. We recommend the Rieker Ladies Black Leather Sandals; minimalist and stylish, these mules will take you from day to night, providing a chic finishing touch to any ensemble.
Alternatively, if you're not a fan of black and prefer a splash of colour or glitter, opt for a brightly coloured pair of mules and combine with loose, breathable trousers or a flowing maxi skirt. This pair of Rieker Ladies' Slip-On Sandals are the perfect combination of colours and embellishments, combining a floral pattern with carefully placed jewelled flowers.
Mules are often crafted with a variety of materials but for a sturdy, long-lasting shoe it is best to opt for quality leather mules. Here at Rieker, we have a wide range of ladies mules to choose from, so you're certain to find the ideal pair (or pairs!) for your next holiday.
Best Walking Shoes for Travel: Walking Sandals
If your holiday involves a lot of hiking or walking, consider walking sandals your new best friend. Providing the perfect level of support to the entire sole of your foot, no matter how far you plan to walk you can be sure that your feet will be free of aches and pains. Easy to put on and remove due to their velcro fastenings, you can also easily adjust the tightness of the straps to suit your preference. These Ladies Metallic Sandals are both summery and supportive. The pretty design and light metallic colouring are perfect for those looking to add a little unique, contemporary touch to their outfit and our signature anti-stress technology makes them a comfort essential.
What are the best men's travel shoes?
Best Walking Shoes for Travel: Trainers
Trainers are a wonderful choice for travelling, particularly when taking long-distance walks or for city holidays. Comfortable and practical, trainers are a fantastic unpretentious shoe and generally complement most casual outfits. Here at Rieker, we incorporate innovative anti-stress technology to make our trainers even more foot-friendly, so you can guarantee absolute comfort. The beauty of trainers is that they never go out of style and can be worn all year round, making them a smart investment.
This pair of Men's Grey Combination Lace-Up Shoes are a fashionable addition to any wardrobe. Their subtle grey colour is a great match for most clothing and the addition of navy and brown embellishments give this trainer a unique edge over other styles.
Best All-round Travel Shoe: Mules
Much like our selection of ladies mules, our men's mules are another winner in the travel category. Very similar in nature, men's mules are a lightweight, slip-on shoe designed to Breathable, stylish and above all, comfortable, we can recommend this pair of Men's Brown Combination Sandals. Wear with three-quarter trousers or jean shorts for warm summer walks or combine with comfortable trousers for a relaxed evening out.
Carefully crafted with high-quality leather, we can guarantee that these mules will see you through your holidays for years to come.
___
Here at Rieker, we have a huge range of men's and women's shoes, with plenty of choices to suit your own unique style. Almost every shoe that we stock is a Rieker product, meaning that the utmost care and love have gone into their design and assembly. Shop at Rieker to find your ideal pair of holiday shoes this summer and keep an eye out for new lines in our new in collection to keep your feet looking stylish all year round.